Advertisement
Only the sauce can turn the simplest piece of fried, baked, or steamed fish into a masterpiece. Combining different types of fish and sauces is a separate art. The main principles, however, are as follows: the fatter the fish, the sharper and sourer the sauce should be. The more tender the fish, the more delicate the sauce. The brighter the taste of the fish, the more neutral the sauce – and vice versa.
Ingredients :
Large bunch of sorrel
150 g butter
3 egg yolks
1 tbsp. l. lemon juice
Salt freshly ground black pepper
Method :
Rinse the sorrel, put it in a sieve, and lower it for 1 min. into boiling water, remove, and pour over with ice water. Dry and chop very finely. Melt the butter in a saucepan. Beat the yolks in a blender (about 20 seconds), continuing to beat, pour hot butter in a thin stream. Whisk until the sauce is smooth. Add lemon juice and sorrel, season with salt and pepper, and beat for another 30 seconds.
Put the image below on one of your Pinterest boards so you always have it around for reference. By doing this, we may also continue to get support from Pinterest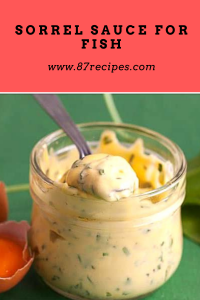 advertisement