Advertisement
An amazing combination of crumbly crispy cake and fragrant jam will not leave anyone indifferent. It takes very little time to prepare this delicious and tender delicacy. Such a cake will be an excellent solution for a daily menu and for a festive feast.
ingredients :
Flour 300 gr
Butter 200 gr
Sugar 100 gr
Vanilla sugar 10 gr
Chicken eggs 2 pcs
Baking powder 5 gr
Peach jam 200 gr
Method :
Butter is cut into cubes, melt, and then poured into sugar, and mixed. Leave some oil to grease the mold. Sift the flour after adding the baking powder.
Add eggs and vanilla sugar to the butter with sugar. Mix everything thoroughly, and then gradually add the flour. Knead the dough. It should be soft.
Divide the mass into two unequal parts – for the base of the pie and for its upper part. Set the smaller one aside for a while. Another – roll out with a rolling pin. The thickness of the lower layer should be at least 5–7 mm. Put the resulting cake in a round baking dish, greased with oil. In this case, the dough should completely cover not only the bottom but also the walls of the form.
Lay out the jam or jam filling.
Roll out the remaining part of the dough with a rolling pin, and then cut it into strips one centimeter wide. Decorate the cake with them, laying them crosswise.
Bake the cake at 170–200°C for 25–30 minutes.
Put the image below on one of your Pinterest boards so you always have it around for reference. By doing this, we may also continue to get support from Pinterest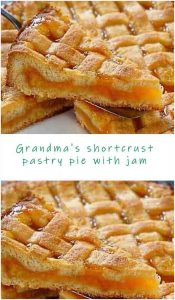 advertisement