Advertisement
Feel for a time like you are living in a huge, busy metropolis. An alternative to sugar that has a fresh flavor and few calories.
ingredients :
for the base:
eggs 2 pcs.
oat bran 4 tbsp
wheat bran 2 tbsp
cottage cheese soft 2-3 tbsp
sugar substitute to taste
For filling:
cottage cheese soft 250 g
Philadelphia cheese 70 g
eggs 3 pcs.
lemon 1 pc.
corn starch 2 tbsp
sugar substitute to taste
Method :
For the cake, mix oat and wheat bran, eggs, soft fat-free cottage cheese, and sweetener.
Pour the mixture into a silicone mold, and bake for 20 minutes at a temperature of 180 degrees. Cool, do not remove the cake from the mold.
Mix Philadelphia cheese with soft cottage cheese, sweetener, zest, and juice of half a lemon. Add two chicken eggs, plus an extra yolk with 1 tbsp. l cornstarch. Mix the mass at low speed with a mixer.
Beat separately the remaining protein in a dense foam, and carefully mix it into the curd-cheese mass.
Pour the filling onto the finished cake, and put in the oven for 40 minutes, baking temperature – 160 degrees.
Dilute the remaining lemon juice with water, and add 1 tbsp. l. cornstarch and sweetener to taste. Heat the mixture until thick in the microwave. Let the cheesecake cool slightly and pour lemon topping over the top.
Put the image below on one of your Pinterest boards so you always have it around for reference. By doing this, we may also continue to get support from Pinterest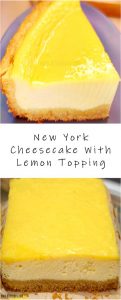 advertisement