Advertisement
For dinner, serve a delicious pork soup with corn grits.
ingredients:
Pork (ribs) 300 g
Potatoes 4 pcs
Corn grits 3 tbsp
Vegetable oil 2 tbsp
Onion 1 pc
Garlic 2 tooth
Carrot 1 pc
Salt, spices, vegetable seasoning (to taste)
Bay leaf 1-2 pcs
Vegetable oil 2 tbsp
Hot water 3-3.5 l
Greens, pepper mix (for serving)
Method:
Wash, dry, and cut the ribs into pieces.
Pour vegetable oil into the bowl of the multicooker, and put the pork ribs. Salt, and sprinkle with spices. Set the program "Frying" for 20 minutes. After 10 minutes, add the onion and carrot cut into medium pieces. Cook until the signal, stirring occasionally. Next, add the potatoes cut into small pieces.
Pour in corn grits, and add salt.
Pour in hot water and set the "Soup" mode for 1 hour.
10 minutes before cooking, add bay leaf, spices, vegetable seasoning, and chopped garlic to the soup.
Pour the finished delicious soup into bowls, and sprinkle with a mixture of peppers and herbs.
Put the image below on one of your Pinterest boards so you always have it around for reference. By doing this, we may also continue to get support from Pinterest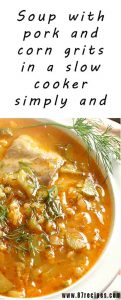 advertisement