Advertisement
Such preparations for the winter greatly facilitate our chores in the kitchen and reduce the time of cooking.
ingredients :
carrots, onions 1 kg each
tomatoes, bell peppers 1 kg each
parsley and dill, large bunches
salt
Method :
We wash vegetables and herbs very well, shake off excess water and leave them to dry.
We cut the onion into small cubes, and three carrots on a coarse grater.
Finely chop the tomatoes too.
Tip: choose very ripe, juicy, and fleshy tomatoes – the dressing will be very tasty.
We cut sweet pepper the way you cut for borscht or soup. Alternatively, grind with a blender or a meat grinder with a large grate.
You can also add hot pepper slices – but this is not for everyone.
We chop greens.
We mix all the products and salt – for such a volume of ingredients, you will need 800 g of salt.
Mix very well and lay out the dressing in sterilized jars, tighten the lids, and store in the refrigerator.
Tip:
you can add a variety of greens to such a dressing – for example, basil, rosemary, etc. You can also cover just greens or just vegetables with salt. Keep in mind that the seasoning is salty when you add it to your dishes.
Put the image below on one of your Pinterest boards so you always have it around for reference. By doing this, we may also continue to get support from Pinterest.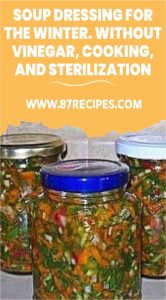 advertisement