To make bread at home, you do not need the special skills of a baker and special equipment. It is enough to have an oven and the desire to bake delicious homemade bread with a soft crumb inside and a crispy crust on the outside.
Advertisement
ingredients :
Flour – 450 grams
Water – 300 ml
Dry yeast – 7 grams
Sugar – 1 tsp
Salt – 1 tsp
Vegetable oil – 2 tbsp
Method :
We sift the flour through a sieve to enrich it with oxygen and make our future bread airy and porous!
Add yeast, salt, and sugar to the flour. We mix.
Pour in 300 ml of warm water and 2 tbsp. vegetable oil.
Knead the dough first with a spatula.
Then put the dough on a floured worktop and continue to knead it with your hands.
We grease a clean bowl with vegetable oil, put our dough in it, cover it with a towel, and put it in a warm place to approach for 40-60 minutes.
Punch down the risen dough and put it back in the heat for 40-60 minutes.
Knead the dough again and form a loaf out of it.
We put the finished loaf in a baking dish, greased it with vegetable oil, covered it with a towel, and left it to proof for 20 minutes.
Meanwhile, preheat the oven to 200 degrees.
Approached in the form of bread, grease, grease with vegetable oil diluted in water (1 tablespoon of water + 1 teaspoon of vegetable oil) and sent to the oven.
We bake bread for 40 minutes at a temperature of 200 degrees.
Put the image below on one of your Pinterest boards so you always have it around for reference. By doing this, we may also continue to get support from Pinterest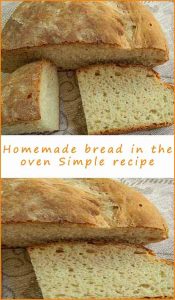 advertisement