Advertisement
1- Cottage cheese cakes with custard and jam
These muffins with cream cheese melt on your tongue. The flavor is outstanding! Depending on the filling, each time could be different. The recipe we're using today calls for peach jam, but you could also use cherry jam, orange jam, etc. In most cases, you can omit the jam filling, leaving only the delicious custard. It's enjoyable to enjoy tea with these cottage cheese muffins!
ingredients (for 14 small cupcakes)
For the dough :
1- Softened butter – 100 gr
2- Sugar – 70 gr
3- Chicken egg – 3 pcs
4- Flour – 150 gr
5- Cottage cheese – 200 gr
6- Milk – 150 ml
7- Baking powder – 1.5 teaspoons
For filling :
1- Peach jam – 70-100 gr
For custard :
2- Chicken egg – 1 piece
3- Milk – 150 ml
4- Sugar – 70 gr
5- Flour – 1 tbsp. a spoon
Method :
1- First, prepare the custard: To do this, mix the egg, sugar, and flour in a small saucepan. Then add warmed milk to this mixture and put on a slow fire. Cook, stirring constantly, until thickened (about 6 minutes)
2- Now we make the dough: To do this, mix softened butter with sugar, add eggs and mix well. Add milk and cottage cheese and mix again. I mix with a blender, at medium speed and not at all for a long time, only so that there are no curd lumps. Then add the baking powder and flour and mix again. We got a medium-density mass.
3- Activate the oven so that it reaches 180 degrees.
4- We take cupcake molds and grease them with oil. Silicone molds do not need to be lubricated, they are sprinkled with water enough, but if you miss, it will not be worse.
5- Put a tablespoon of dough in each mold.
6- Put a teaspoon of jam on the dough, and on top of the jam, a teaspoon of custard.
7- Then again put a tablespoon of dough. We fill the molds not to the top, but 3/4, so that there is room for raising the dough, although it does not rise very much.
8- We send the molds to the oven preheated to 160 degrees and bake for about 30 minutes. Cool and remove from the mold.
Our cottage cheese muffins with custard and jam are ready.
2- Quick and tender cupcakes for tea from cottage cheese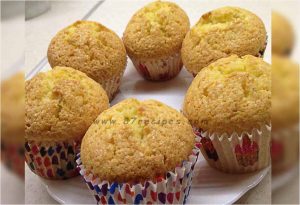 ingredients :
Curd – 200 g
Sour cream – 2 tbsp. spoons
Egg – 2 pieces
Butter – 2 tbsp. spoons
Flour – 1 cup
Sugar – 1 cup
Soda – ½ teaspoon
Salt – a pinch or to taste
Method :
1- Combine flour, sugar, baking soda, and a little salt with cottage cheese after rubbing it with eggs, sour cream, and melted butter.
2 – Thoroughly combine everything and pour into a mold or molds.
3- Bake until finished at 180 C.
3- Chocolate – cottage cheese muffins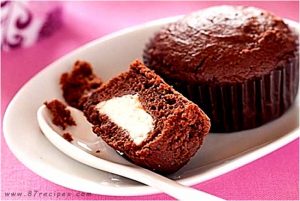 Cupcakes are always delicious, especially when they are hot out of the oven. You won't have to put in a lot of time or effort to cook. Such filled cupcakes will provide a lasting impression of sincere tea sipping on your loved ones and will delight them.
ingredients :
Filling:
1. Soft cottage cheese – 250 gr
2. Sugar – 5 tbsp. spoons
3. Vanilla sugar – 1 sachet
Dough:
1. Flour – 200 gr
2. Baking powder – 2 teaspoons
3. Cocoa powder – 3 tbsp. spoons
4. Chicken egg – 1 pc
5. Sugar – 180 gr
6. Vegetable oil – 100 ml
7. Natural yogurt – 300 ml
Method :
1- We heat the oven to 180 C.
2- Lubricate the molds with oil.
3- Vanilla sugar and cottage cheese should be beaten together..
4- Combine the sifted flour, baking powder, and cocoa. Mix well.
5- Beat the egg with sugar, vegetable oil, and yogurt.
6- Add the flour mixture, and mix well again.
7- Divide the dough in half.
8- Place one part in molds, then spread on the dough for about 2 tsp. toppings and cover with the remaining dough.
9- Bake for about 20 minutes.
advertisement