Advertisement
The mayonnaise-making instructions in this recipe are very different from the ones we are used to. It comes out a little piercing. Not just the yolk is used, but the entire egg. The mayonnaise has a seven-day shelf life. However, since such a delectable mayonnaise is consumed so rapidly, I'm confident you won't be able to verify this
ingredients :
Egg – 1 piece
Sunflower oil – 150 grams
Odorless olive or sunflower oil – 50 grams
Dry mustard – a teaspoon
Salt – half a teaspoon
Sugar – a teaspoon and a half
Lemon juice – to your taste
Hot ground pepper – on the tip of a teaspoon
Method :
Food should be taken out of the refrigerator in advance. They must be at room temperature.
The blender works best. The egg is inserted first, followed by mustard, salt, olive oil, and hot pepper. Once everything is loaded, begin whipping as hard as you can.
Now, while continuing to beat, slowly add the sunflower oil. It is necessary to continue doing this until the bulk brightens and thickens. Be mindful that the amount of oil needed may vary slightly from what is specified in the recipe. Everything is dependent on the product's quality and the blender's power.
Store mayonnaise in a glass jar with a tightly closed lid.
Put the image below on one of your Pinterest boards so you always have it around for reference. By doing this, we may also continue to get support from Pinterest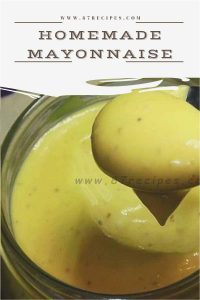 advertisement