Advertisement
ingredients :
125 g butter
2 eggs
150 g sugar
150 g flour
1 sachet of baking powder
1 sachet vanilla sugar
200 g blackcurrant
tbsp. l vegetable oil for lubricating the form ⠀
Method :
Beat soft butter with sugar.
Add eggs one at a time and beat the whole mass until it increases in volume.
Add sifted flour, baking powder, and sugar with vanilla. The mixture is stirred until a homogeneous consistency is obtained.
Add processed black currants to the dough. Mix and put the whole mass into a heat-resistant form, greased with vegetable oil. Bake the cake at a temperature of 200 gr for 30 – 35 minutes.
Serve with beautiful fresh berries.
Put the image below on one of your Pinterest boards so you always have it around for reference. By doing this, we may also continue to get support from Pinterest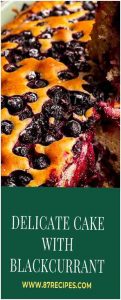 advertisement