Advertisement
ingredients :
200 g -flour
1 glass- kefir
3 pcs – yolks
100 g – vegetable oil
1 glass – of sugar
10 g – baking powder
150 g – jam or jam
50 g – nuts
Method
Beat eggs with kefir, sugar, and vegetable oil.
Sift the flour, then add it and the baking powder. Beat until smooth.
It ought to be fluid dough.
The dough is poured into a prepared mold.
Bake for 40 minutes at 180 C.
Cool the cake, then add a nut garnish.
Put the image below on one of your Pinterest boards so you always have it around for reference. By doing this, we may also continue to get support from Pinterest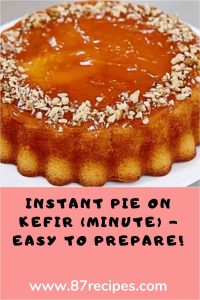 advertisement