I share with you a great option for a delicious lunch or dinner – barley with chicken in the oven. The barley is crumbly, tender, and very tasty, the chicken is ruddy and juicy, and the dish as a whole is very tasty and satisfying, it will become one of your favorites
Advertisement
ingredients :
300 gr – Pearl barley
900 gr – Chicken
1-2 pcs – Carrots
1-2 pcs – Bulb
600 ml – Water
0.5 tsp – Sweet paprika
1/3 tsp – Curry
2-3 teeth – Garlic
3-4 tbsp – Vegetable oil
Salt, black pepper to taste
Method :
Rinse pearl barley several times, then fill with cold water. Let barley stand in water for 1-2 hours to swell a little.
Rinse chicken thighs, put them in a deep container, and add paprika, curry, black pepper, and salt. Add the garlic passed through the press, pour in a little vegetable oil, and mix thoroughly so that the spices are evenly distributed over the thighs. Set the meat aside to marinate.
Peel the onion, cut into cubes, throw in a heated oil pan, and fry for 2 minutes until soft.
Grate the carrots on a coarse grater, add to the onion, mix, and continue to sauté the vegetables together for the next 5 minutes over medium heat.
Transfer the sautéed vegetables to a heat-resistant form. Drain the liquid from the cereal, add the barley to the vegetables, salt, and pepper, mix, and smooth with a spatula.
Place marinated chicken thighs on top.
Pour the required amount of hot water into the mold. The liquid should cover the entire grain. Preheat the oven to 180 degrees, and put the mold inside. Bake the dish for approximately 50 minutes. Then reduce the temperature to 100 degrees, and bake for another 15 minutes until cooked. If during the baking process, all the liquid is absorbed into the cereal, then it can be added.
The taste and aroma are just mind-blowing!
Put the image below on one of your Pinterest boards so you always have it around for reference. By doing this, we may also continue to get support from Pinterest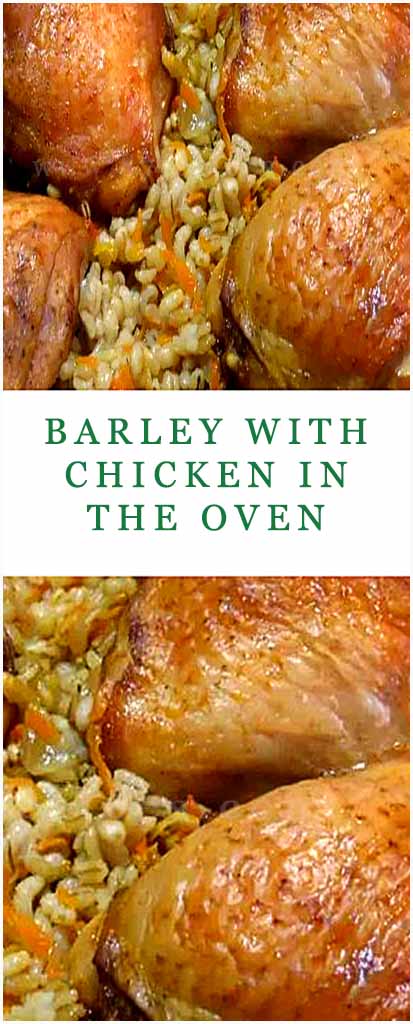 advertisement