Advertisement
Oats and bananas are the perfect breakfast for those who love sweet, healthy, and delicious meals. It is easy to make this recipe, only a few ingredients are required, and spoiled bananas can be used. These pancakes are not only delicious but also healthy because oatmeal is a great source of healthy vitamins and fiber, and bananas are full of potassium.
ingredients :
1 cup ground oatmeal
2-3 ripe bananas (Overripe as well)
1 egg
1/2 cup milk
1 teaspoon baking powder
1/4 teaspoon salt (To taste)
1 teaspoon vanilla extract
Vegetable oil
Method :
In a large bowl, add a mature banana with a fork. Add egg and stir well. Then add oatmeal, baking powder, salt, and vanilla extract (if using), and mix well.
Gradually add milk and mix well until a dough forms.
Heat a non-stick frying pan over medium heat and lightly oil it with vegetable oil or sprinkle it with cooking spray.
Using a 1/4 cup, pour the batter into the pan and spread it out in a circle shape. Cook the pancake for 1 to 3 minutes, until bubbles form on the surface and the bottom is golden brown. Flip our pancake with a spatula and continue cooking until the other side is golden too about 2-3 minutes.
Repeat this process with the remaining dough!
Serve hot pancakes with your favorite toppings like fresh fruit, honey, syrup, or peanut butter. If desired, the dish can be decorated with sliced ​​bananas.
These oatmeal and banana pancakes will definitely become a regular breakfast in your family. They are ideal if you are very busy in the morning and have little time to cook. Just 5 minutes and a delicious, and most importantly healthy breakfast will be ready! They are easy to make ahead of time and store in the fridge or freezer for later. Why not try this recipe and start the day with a delicious and healthy breakfast?
Put the image below on one of your Pinterest boards so you always have it around for reference. By doing this, we may also continue to get support from Pinterest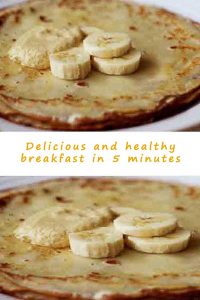 advertisement